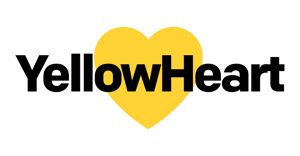 YellowHeart is the NFT marketplace for music, ticketing, and community
tokens, which accepts crypto and credit card payments.
Differentiator:
Ticket issuers want transparency, traceability, and the ability to monetize through secondary sales and upsell opportunities. Fans want the ability to communicate directly with artists, and artists want the ability to get rewarded for their work beyond the first sale. Finally, all market participants want to mitigate scalping and fraud in the marketplace. YellowHeart provides solutions for these needs within their platform, positioning them as trailblazers in the ticketing and music industry.
Opportunity:
YellowHeart is at the intersection of traditional entertainment and ticketing technology. The ticketing process has been stagnant and Yellowheart is revolutionizing the industry. The platform allows buyers to trace the provenance of their tickets and provides creators with a method to earn a portion of all future profits.
Customers:
YellowHeart is built for anyone who loves music. Further, YellowHeart targets those responsible for ticketing a wide array of events in sports, musicals, and industry conferences.

Team:
Josh Katz, CEO and Founder, has over 25 years of experience in the music industry at Arista, Jive, and BMG. Josh founded and sold EL Media—North America's largest background music provider—which sold into over 15,000 locations worldwide for over 3,000 leading hospitality, restaurant, and retail brands such as Tao Group, Nobu, and Four Seasons. Josh has been an NFT industry pioneer since 2017, when he was the senior advisor to Rally, providing operational guidance and sourcing their top-selling creator coins, including Portugal the Man.