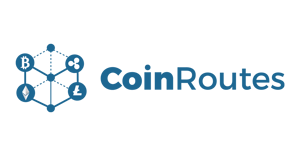 CoinRoutes is a trade order management software that runs on top of other crypto exchanges providing machine intelligent execution algorithms, smart order routing (SRO) security, and comprehensive market data.
Differentiator:
CoinRoutes is the leader in crypto algorithmic trading solutions allowing customers to efficiently and securely manage positions, multiple traders, and exchange access. Their flagship solution includes an OTC platform, which serves as a price aggregator and an order management tool. CoinRoutes also offers real-time data analytics built for popular crypto assets on more than 35 exchanges, and a smart order router that streamlines orders across multiple venues.
Opportunity:
The institutional-grade platform is built to scale with growing users, price fluctuation, and trade volume.

In 2021

, digital asset investment products saw inflows totaling $3.9 billion, compared to inflows of $6.8 billion in 2020. This represents a 36% year-over-year increase, a trend we believe will only accelerate.
Customers:
Blockchain Spaces software is built for P2E game player managers, starting with Axie Infinity, the pioneer of P2E gaming.CoinRoutes customers consist of trading firms, OTC desks, and investment managers.

Team:
David Weisberger serves as Co-Founder & CEO of CoinRoutes, formerly serving as Principal at ViableMkts and Managing Director at IHS Markit. He has over 30 years of experience in market structure, quantitative finance, and trading automation. David built the first trading program and electronic systems for Morgan Stanley and was the global architect of Salomon Brothers' equity trading platform.
Michael Holstein serves as Chief Revenue Officer at CoinRoutes, and has a background in building businesses and facilitating multiple successful exits, including the sale of Lava Trading to Citi Bank for $400 million in 2005.