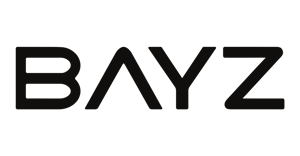 BAYZ is a play-to-earn gaming guild and decentralized autonomous organization (DAO) building a community with asset management portfolio tools for blockchain game initiatives, esports, and content creators in Brazil.
Differentiator:
BAYZ is the exclusive Brazilian partner with Yield Guild—the largest and most successful play-to-earn gaming guild worldwide— bringing blockchain-based gaming and play-to-earn opportunities to the Brazilian economy. The company leverages owned NFTs to introduce a rental program for guild members to utilize the assets in exchange for a portion of the in-game rewards. Further, by partnering with content creators BAYZ is building a lifestyle DAO to encourage interactive community engagement.
Opportunity:
The minimum wage in Brazil is roughly $200 per month. By playing play-to-earn games like Axie Infinity, individuals in low-income countries such as Brazil can double their income. With 94.7 million Brazilians who categorize themselves as gamers and are considered to be some of the most engaged gamers in the world, BAYZ has the opportunity to cultivate this audience with additional P2E resources and initiatives.
Customers:
BAYZ customers are gamers and creators primarily located in the Brazil region.

Team:
Co-Founder, Joao Borges managed one of the biggest esports organizations in Brazil, INTZ. Co-Founder, Matt Rutledge served as Director of Mobile Gaming for Complexity, one of America's most elite and longest standing esports organizations. With their combined knowledge of blockchain, esports, gaming, and the Brazilian economy, they are well-positioned to be leaders in this space.
Learn more on Base Layer episode, Joao Borges & Matt Rutledge, founders of BAYZ on the future of Web3 Games & Guilds in Braz.